Our Story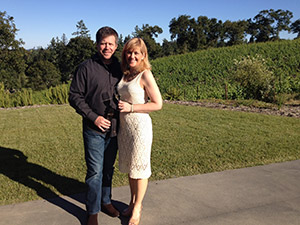 The foundation of what became Cellars 33® began about 15 years ago when a man finally met the woman he knew he would marry. At the time, John was an active beer brewer and enthusiast in Baltimore, Maryland. The problem was, Katie wasn't a big fan of, nor terribly impressed with, beer or home brewing. What to do? Wine!! So, with the purchase of an $8 bottle of California Merlot, Cellars 33® was "born".
With that beginning, including a small wine rack strategically placed on the top of their refrigerator (probably the warmest place in John's apartment), Katie and John undertook a journey to learn everything they could about wine. With frequent vacations to California and a fateful wine cruise to Italy in 2007, the die was cast.
In 2007, it was time to get hands on, so John began with a brief harvest internship at Freeman Winery in Sebastopol, California. Those two weeks were filled with 16 hour days of intensely physical, hard work. Reluctant to return home to his law practice, he immediately began planning for a return. The following two years saw full internship positions at Freeman in addition to other trips for racking, blending and bottling what would become the first wines for Cellars 33®.
Finally, in January 2010, with a 28 foot Penske truck packed full with all of their belongings, John and Katie, with their intrepid dog Max, drove across the country and settled here in San Francisco. Cellars 33® became licensed and started selling wine to a loyal Mailing List the following year and has experienced annual growth of 100%. Now with slightly over 1,000 cases produced annually, Cellars 33® focuses on premium vineyard sites for Chardonnay, Pinot Noir, Zinfandel and whatever else Katie lets John make.